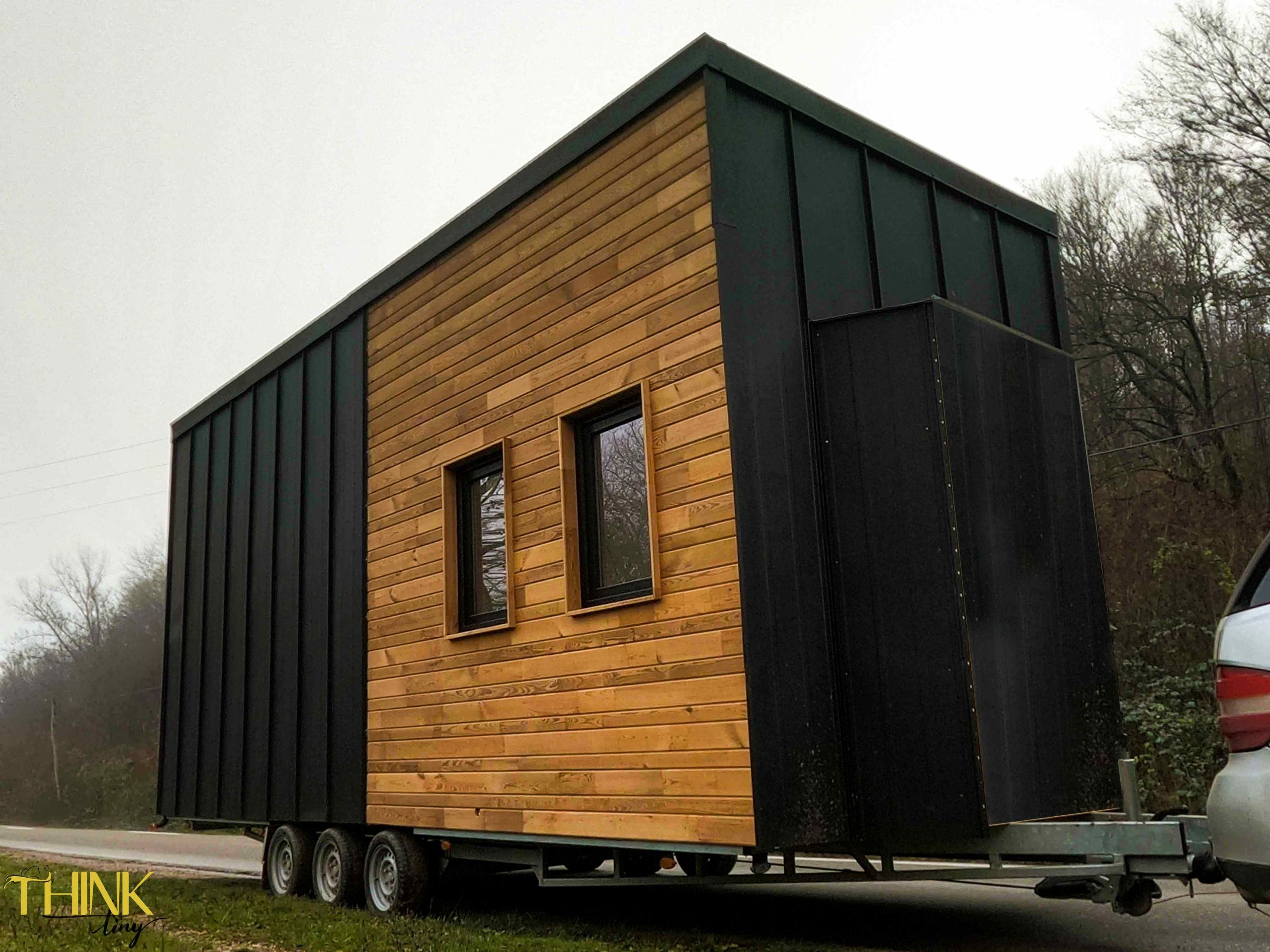 Meet our Tiny House under construction: DYNO! This tiny house has 2 separate queen sized bedrooms, a sizable kitchen and huge windows everywhere so you can see 360! It's 75% through the build and it can be delivered anywhere in Europe. Find out more below:
Type: Holiday Tiny House
Functions: 2 loft bedrooms, kitchen, living room and bathroom
Size: 7.4x2.55x3.98m
Special Features: 2 skylights, 2m. sliding window, electric floor heating, minimalist design
Price: Starting at 36 600€
DYNO is designed as a holiday home, carefully built to reach remote locations. We, at Think Tiny House make every house custom made for our client's need so if this one doesn't match your desires or you need something extra, we are here for you!
Enough chit-chat, let's move on to DYNO! Dyno is built to be road legal, with a trailer that is specially built and certified by VLEMMIX. It has a weight limit of 3.5t, so we used lightweight materials to reach this goal. It's designed to function on grid – with mains connections on water and electricity. Modification can be made to use solar panels and water collecting systems.
Dimensions
Length: 7,40 meters
Width: 2.55 meters
Height: 3.98 meters (on trailer)
Lofts: Each 5.5 m2 (11 m2 in total)
Total surface: 27 m2
Plans
Ground floor

1.   Living Room
The ground floor is dominated by the huge windows which surround the living area. The entry is located on the right side of the house opening to the living room – a comfortable L shaped sofa. Under the sofa we have storage spaces and next to it a coffee table. Sitting on the sofa, you can enjoy the view of your garden both looking left with a 1.6x1m. window and in front of you with the glass door and side window. Just splendid!
2.   Kitchen
The kitchen is a pleasure to be in! With full utilities – stove, oven and sink, you also have ample spaces to prepare your meals. The countertop which doubles as our bar/serving table. The real magic is that the window is sliding into the wall, offering the possibility to have another 3 seats on the outside of the house and bringing the outside in!
Built in the stairway, we have a fridge and a lot of storage spaces to place all your pans and pots and out of season clothing.
*Note 1 – under every stair there is a storage box
*Note 2 – the window slides into the wall rather than lifting up as in the picture above
3.   Bathroom
The bathroom is spacious enough to have a walk-in shower, a floating vanity and a composting toilet. There is the possibility to install a normal flushing toilet as well.
  Second floor (lofts)
1.   Master Loft
The master loft follows the built-in-wall-stairs for easier access. It's a mini paradise up there! You have a huge (1.5x1m) skylight so you can admire the stars at night and it also has another window for good ventilation. The bed is queen sized (160x200cm) – perfect to cosy up in bed with your loved one. You also have a fluffy carpet and a few storage spaces.

2.   Guest Loft
Although we call it the guest loft, the second bedroom is equally as comfortable. With the same 1.5x1m skylight, the only difference is the orientation and the access. We have built an in-wall staircase to minimise the space used and maximise the efficiency in the house.
ALL SPECS INCLUDED
1. Electric floor heating and radiator in the bathroom with thermostat – 2KW power – 5-year warranty
2. 10 cm. rockwool insulation all-around
3. Electric network, appliances, plugs and switches
4. All displayed windows, doors – 5-year warranty
5. Composting toilet – Separrett Villa with ventilation – 2-year warranty
6. Kitchen Electric appliances: induction hob, oven and fridge – 2-year warranty
7. Bathroom: sink, shower door, floating vanity
8. Furniture: kitchen, bathroom, bedrooms and living room – 5-year warranty
9. Water boiler for hot water (50 liters) – 2-year warranty*
10. Stratified wood structure – 10-year warranty
*Warranty to all the listed item is subject to proper use of the equipment/furniture as described in their manual
Price
Description
Cost with VAT
Discount %
Discounted price
Dyno Tiny House – base version (as listed above)
36,600.00 €
Optional extra
Vlemmix 7.2 x 2.44 trailer (3 axes)
5,250.00 €
Solar Panel package – with batteries
4,500.00 €
Bio-gas Installation (creates gas from food and vegetal waste)
1,200.00 €
Water collection system (without water thank)
560.00 €
Water filtering system
610.00 €
Transport (first 1000 km included)
1,5€ /km
Portable deck – modular
2,000.00 €
The trailer, deck and the off-grid solutions are not included in the base version!
For more details and to answer all your questions about DYNO Tiny House, please contact our Sales Manager!
Dan Ghita – 0040 746 972 418
contact@thinktiny.house
If this tiny house layout or functions wasn't what you wanted, please fill in the form below in order to receive a personalised tiny house offer!