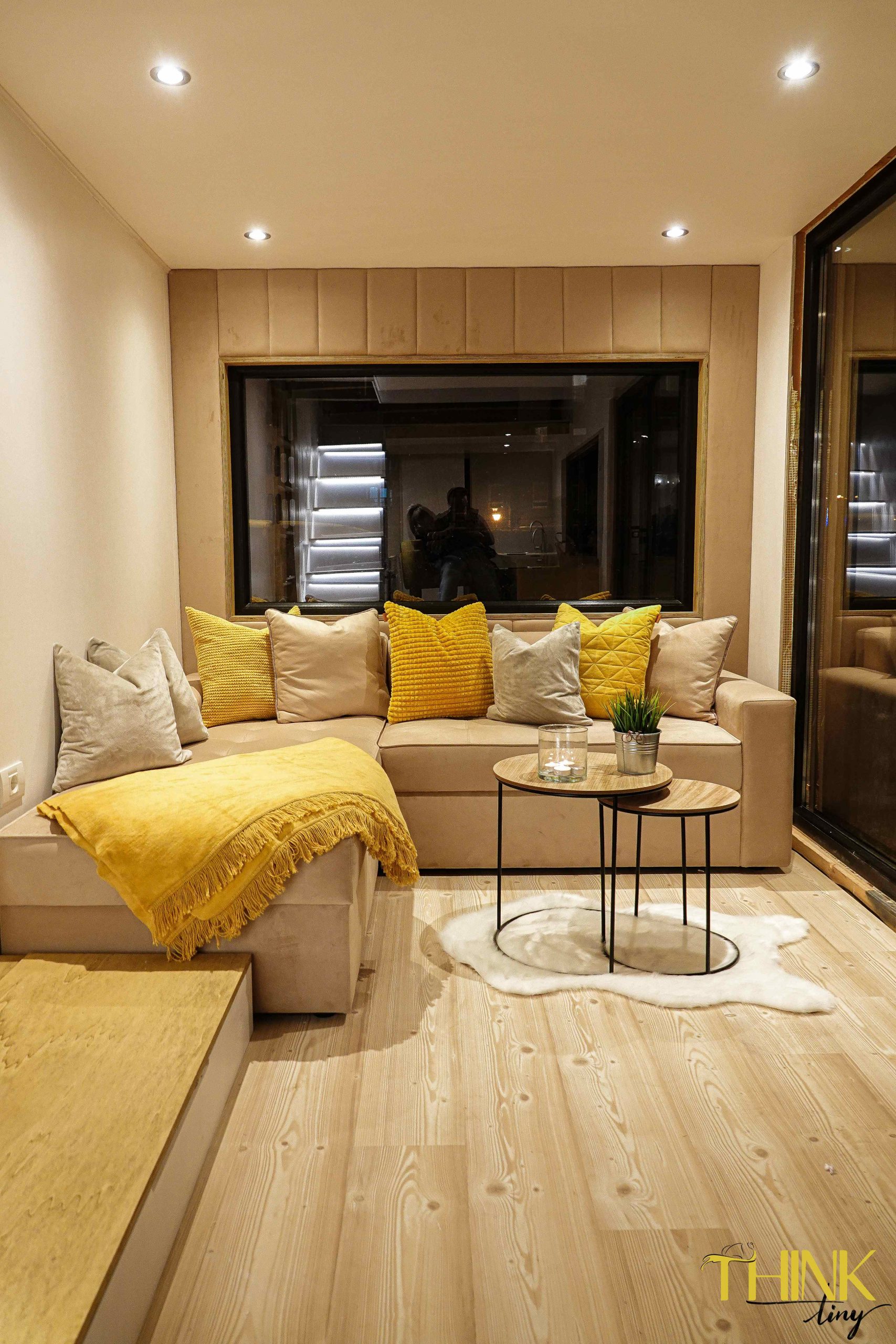 Living Tiny House
A living tiny house has to be specially designed and built for permanent living. Compared to a holiday tiny house, you will need a bigger fridge, more storage space and a washing machine to keep everything nice and clean.
From Plans to the final product, we have plenty of options to go through! We would suggest a tiny house at least 6 meters long to give you plenty of space to live in. There are a few questions that are worth thinking about before purchasing a tiny. We can help making these points clear!
Foundation or on Wheels?
First question will be if you want to purchase a tiny house on wheels or on foundation.
On Foundation
If you don't want to move your house or rarely move it, we would suggest to plan your tiny house on foundation. We specialise in tiny houses which can be transportable so even the ones on foundation can be loaded on a semi-truck and move to a different location if need be. You can build wider as well – as wide as 3.2 meters.
This solution comes with the downsize that you will have to deal with the foundation building. If that is on steel frame or concrete, it's up to you and your particular situation. Building on foundation or as a light structure may have different regulations in your home country so it's better to check with local authority.
Purchasing a foundation tiny house from us is cheaper, not having to pay for a custom trailer.
On trailer (wheels)
The tiny house movement has started with houses on trailers. They don't require council planning and they can be parked in different camping grounds or facilities that allow RV or camper-vans. Perfect for the free spirit!
The huge advantage with tiny houses on trailer is that they are mobile, flexible and light! They can be moved around by you if build under the 3.5 tone limit. Another advantage is that they can be plug and play – we deliver it to you and you can start living in your tiny on the same day.
The downsize with them is that it limits your build to 2.55 meters wide and 4 meters tall. Nonetheless, you can go mad with how long you build it going as big as 11 meters!
The materials we build your tiny house with are also special – having to be light and durable.
We also specialise in traveling Tiny Houses – houses specially build to travel frequently.
Off-grid or connected to mains?
The next question in your tiny house journey is where will you put the tiny house? Your parking position (where you will leave the house) will either have or won't have connections to water, electricity and gas.  If so, connecting to mains is the easiest and most reliable source of making your tiny house perfect to live in.
Off-grid
Otherwise, if you are not close to the electrical grid or water sources, or you just want to live totally independent from the system , we have a few solutions to make you living easy:
solar panel system (that will power up your tiny)
Water collection and filtering
bio-gas installation (for cooking)
composting toilet (no sewage required)
fireplace (wood or gas)
Leave the rest of the build to us! Let us help you by building your dream
tiny house

!
Total Summary
{{ field.label }}
{{ field.converted }}
{{ option.label }}
{{ option.converted }}
{{ item.label }}
{{ item.converted }}